Umpire Information
Umpire Information
Saskatoon Umpire Association Contact: Matthew Schule, 306-381-5882,
schule.matt@gmail.com 
NEWS:
Find Our Facebook Page: Saskatoon District Baseball Umpires Association
NOTICE: The SDBUA will be using online assigning IN ALL DIVISIONS. Horizonwebref is the assigning system. Login credentials will be given to umpires upon completion of a clinic.
Why become an umpire?
Improve your knowledge of baseball and apply it to your game.
Build meaningful relationships than can expand throughout the province and even Canada.
Make your own schedule!
Being a official can look great on a resume.
Develop skills that are transferable to sport, work and play.
Give back to baseball in a meaningful way.
Opportunities to travel – stick with it and you could experience amazing opportunities throughout Saskatchewan & Canada!
Finally, and perhaps the most obvious – you can make a quick buck while having the "best seat" in the game.
---
2021 Umpire Clinic Registration:
HOW TO REGISTER: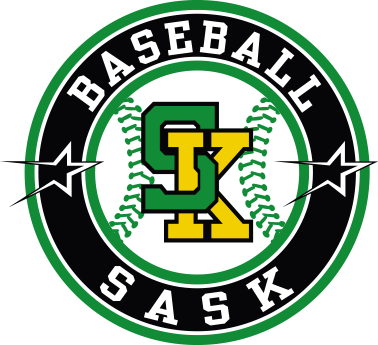 2021 Baseball Saskatchewan Level 1 or 2 Registration Information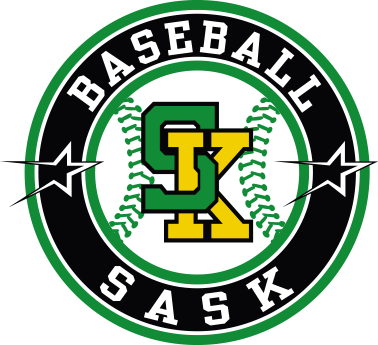 Part 1: Registration with Baseball Saskatchewan –
Please read this entire section before you start your registration.
The first step in this process is to register as a Baseball Saskatchewan umpire for this year.  This is a new process and will be a mandatory step going forward from this year on.  Go to the following website and complete your registration as an umpire by creating a RAMP profile on the log in page.  If you already have a profile in RAMP as a player or a coach, you can use that profile to also register as an official.  You MUST use the site below to register as an official in addition to your registration as a player and/or a coach. (http://baseballsaskumpires.rampregistrations.com/)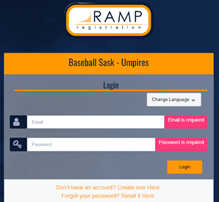 2. After you create your profile, or log into your existing profile, you must register as an official.  Click on the Register as an official link in the Official Registration box as seen to the right.
3. Complete the information on the next page:
a. Choose a Family Member and complete or update your personal information.Complete the information on the next page.
b. Choose the officiating level that you are attending this year.  The Level 1 and 2 clinic levels are automatically defaulted to the clinic in this year's rotation.
c. Choose your Primary Club:  This option is your local MINOR BALL ASSOCIATION.  DO NOT CHOOSE YOUR TEAM FROM THIS MENU.  This assists us in tracking your primary center for umpiring games. For example, if you are from a city that is divided into zones such as Regina, select Zone 2 – Baseball Regina as your Primary Club, not your home zone within the city of Regina like the Regina Buffaloes or Regina White Sox.  The same applies to any other city that is divided into zones such as Saskatoon (Zone 6 – Baseball Saskatoon), Moose Jaw (Zone 3 – Moose Jaw Minor Ball), Swift Current, etc.
d. Once you have completed the above, make sure you click the box beside the package (Level) before clicking on Continue. You will not be able to move on until all red fields on this page are complete.
4. You will be taken to a page with a Waiver.  Please read the waiver and sign in the box provided.  If you are under the age of 18, your parent or guardian must read and sign the waiver for you.  Click continue after you sign the waiver and click the check box under the signature.
5. The next page is an optional question regarding an Indigenous Self Declaration that you may choose to answer or continue without answering.
6. The next page is the payment options page as seen below.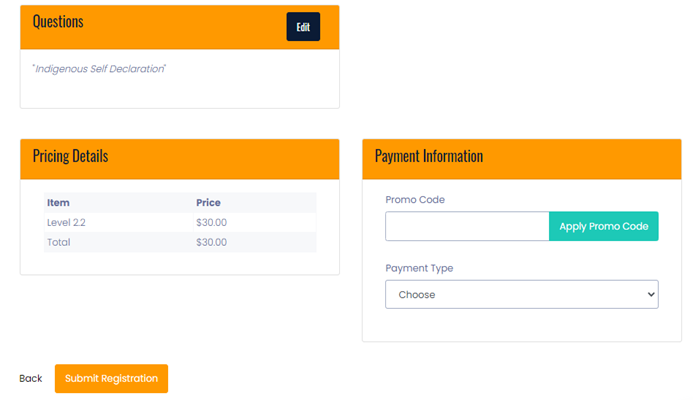 As a Level 1 or 2 umpire, under the payment type you have 2 options:
a. My Minor Ball Club Will Pay (Voucher) – Choose this option if your minor ball association usually pays the Baseball Saskatchewan registration fees for umpires in your community.  Please note:  Baseball Saskatoon pays the full registration for all Saskatoon umpires.  The minor ball association that you identified as your home club will be billed directly by Baseball Saskatchewan and you will not have to pay to register.  If you are unsure if your Minor Ball association pays registration fees for umpires, you can contact your minor ball association and ask them, contact your Zone Umpire supervisor and inquire or you can pay the registration yourself using option b and submit your receipt to your minor ball association for reimbursement.
b. E-Transfer – If you normally pay your own registration because you do not belong to a minor ball association or there is not one in your community, or you are a Level 3, 4 or 5 umpire, you must pay your own registration to Baseball Saskatchewan by E-Transfer. Once you select this option, follow the instructions that appear under the option to submit your registration payment.
Once you have completed your provincial registration, you can now register for the ONLINE Level 1 and 2 clinics for 2021.
Part 2:
2021 Level 1 & 2 Clinics
The British Columbia Baseball Umpires Association (BCBUA) has graciously invited us to take part in their online clinics this year. These clinics do not exactly follow our Saskatchewan curriculum, but they will be a great learning experience in place of our regular clinics. If you have questions regarding material covered at the clinics, please ask a Saskatchewan Course Conductor, your zone director, or an experienced local umpire to get your questions answered. There are a variety of dates that you can choose from to attend the clinic. Each clinic is about 3 hours in length. Follow the instructions below to register for a clinic. The Baseball Saskatchewan Umpires Division will receive a list of Saskatchewan umpires who attend the clinics and these lists will be cross referenced with the RAMP registrations. To be fully registered for the 2021 season, you must register on the provincial RAMP system as an umpire (official) AND attend an online clinic.
Part 2: Level 1 & 2 Clinic Registration
Visit www.bcbuaeducationportal.net and click on CLICK TO BEGIN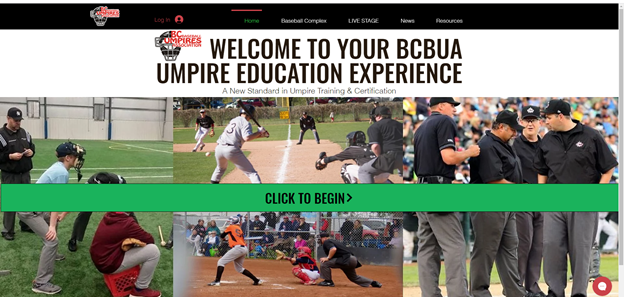 2. Fill out the Member Sign Up Page. The e-mail used in this section must be unique. Parents signing up multiple umpires must have separate e-mails for each umpire.
3. Once you have created your profile, Click on the Registration Flag in left field.

4. Select the Clinic Date you wish to attend and click "Register Now".  There are dates on every weekend in April.  You must attend one of the dates on the list.  There are no make up dates!
5. On the next screen, confirm your registration for that session by clicking the RED "Register Now" button.

6. Fill out the Required Information, then Click Next, and Check Event Policies Box, then click SUBMIT
7. You will then receive confirmation of registration, and an e-mail. Add it to your calendar so you don't forget!
8. Do not forget to attend the session that you register for.  Be aware that the times listed for the sessions on the website are Pacific time so your clinic will start 1 hour later that the time listed on the website when you register.  If you miss your session, re register for another.
Please reach out to your zone director or a member of the Baseball Saskatchewan Umpire Executive if you have any questions.
Good luck and have a great season!
---
If you have any questions, please contact your local director or any Saskatoon clinician who will be happy to assist you with registration or clinic learning material.
---
Louis Slotsve Baseball Umpire Mentorship Program:
The Louis Slotsve Umpire Mentorship Program is meant to serve our newest and youngest umpires within Zone 6 to assist and support them in their development as they mature and grow. Through this program, mentors are able to be on location and assigned to individual umpires, allowing instantaneous feedback, support and intervention with spectator behavior if needed. The Mentorship Program allows new umpires to build upon their knowledge and improve at an exceptional rate in comparison to those who may not receive any support, creating confident, safe and knowledgeable officials who are inspired to continue their baseball journey are the essential goals of this program. To support the program, please contact an SDBUA executive or Matt Schule via email, Facebook, text or phone (306-381-5882).
Mentorship Committee:
Logan Nugent – 306-291-7961
Blake Thille – 306-290-9963
Travis Wourms (Steak Night) – 639-480-5225
Saskatoon District Baseball Umpire's Association Executive:
President: Matt Schule 306-381-5882
Vice-President: Aaron Szejvolt 306-260-6432
Past President: Scott Mills 306-281-3557
Director: Blake Thille 306-290-9963
Director: Travis Wourms 639-480-5225
Director: Karl Rowe 306-341-2719
Director: Heath Muggli 306-227-0909
Director: Logan Nugent 306-291-7961
Treasurer: Scott Mostoway 306-230-5799
Equipment Suppliers:
Olympian Sports Excellence 101 Idylwyld Dr N Saskatoon Tel: 306-934-6771 Fax: 306-934-6772
Al Anderson's Source for Sports 208 Avenue B South (across Idylwyld from Midtown Plaza) Saskatoon